New Top Smartphone Makers Emerging
There are changes occurring in the smartphone market worldwide, much of it stemming from the most populated country--China. According to the International Data Corporation there were just under 335 million smart phones shipped in the first quarter of 2016, up 600,000 from first quarter in 2015. This was the smallest growth from one year to the next on record—though it should be noted that it was still growth. Another change was in the companies that comprised the top five phone sellers.
The top five smartphones on the market are 1. Samsung, 2. Apple, 3. Huawei, 4. OPPO, 5. and vivo. OPPO and Vivo have pushed Lenovo and Xiaomi out of the top five. The companies in the top five are not all that have changed. In 2013 China shipped out 62.5% more phones than the previous year, in 2015 it shipped out 2.5% more phones which makes all of these players interested in finding new markets for their products. The average price of a phone increased $50 in the same time frame, from $207 each to $257.
Huawei and OPPO lack the world-wide presence and name recognition outside of China that the other three companies in the top five currently enjoy, but China has a huge market of people continually hungry for new technology.
Samsung remains in the top spot even though it has seen a reduction in sales of .6% from the previous year. Samsung enjoys both very good quality recognition as well as offering a "J" series which appeals to more budget focused consumers.
Apple has seen its worldwide sales decrease 16.3% from last year. Apple offers their "S" models and iPhone 6 and 6 Plus, and they also offer the "SE" which is expected to be more of a challenger to Android phones as it is similarly priced. The "SE" is the model that Apple hopes will take them into more emerging markets; however, the "SE" is still priced outside the budget of many people in China and India at $399 US.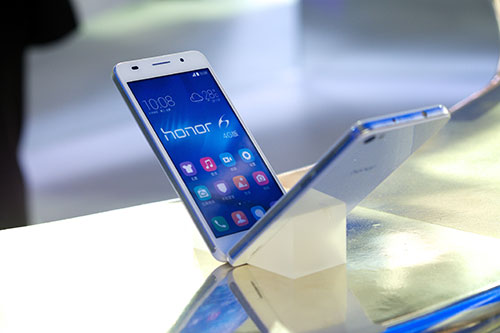 Huawei is a Chinese company that has seen its sales grow from 17.4 million units in the first quarter of 2015 to 27.5 units in the same quarter in 2016. Huawei is focused on both top of the line models, and entry-level models and is working on markets in China, and in developed European countries. Its topline smartphone offers Leica optics which the company is using to battle Apple and Samsung in an effort to increase its market share worldwide.
OPPO is a company that has been selling phones since 2011 and has been selling largely in Southeast Asia, the Middle East, and Africa. OPPO is using celebrities to grow its market share outside of China, and it seems to be working as 20% of its shipments have been outside China, while its growth in China has been even greater with just over 153% from one year to the next.
Vivo has focused almost entirely on Chinese markets, with under 10% of its shipments in 2015 leaving the country. The vivo is considered a quality brand in China and is one of the more expensive phones consumers will buy at around $300 U.S. While OPPO has put an emphasis on great optics, vivo has focused on providing great audio in its products. Vivo shipped 123% more product in the first quarter of 2016 compared with 2015.
For the foreseeable future there will be a battle for smartphone markets. Companies will try to find a way to establish a presence in developing markets, and they will try to make "the phone" in established markets so millennials and other technophiles will continue to want to trade up. Although the players in the top five may continue to change, the game probably won't change any time soon.