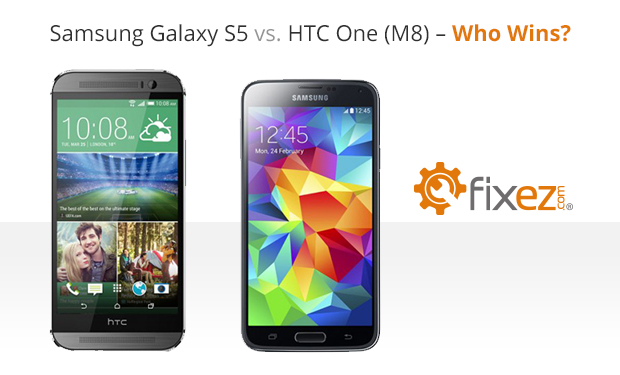 When it comes to Android smartphones, Samsung and HTC have a known history as rivals and this year they're going head to head with the recent release of the Samsung Galaxy S5 and the HTC One (M8). This rivalry has inspired some amazing products from both sides as they strive to come out on top.
Both smartphones feature big, high-quality screens and more than enough power, but that's where a lot of their similarities end. Samsung and HTC each took a different approach in other arenas. We dug in to the nitty-gritty to provide you with a summary on how these two leading players measure up.
Good Looks
Hands down, HTC is the favorite when it comes to looks. Its sleek, brushed metal design earns big points over Samsung's familiar plastic build. However, the Galaxy S5 does come in a wider variety of colors, has better grip and is water and dustproof, which closes the gap a little.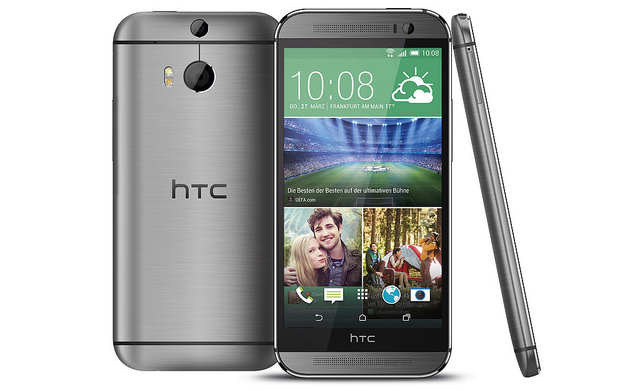 Sound Off
This round goes back to HTC. Although their quality speakers make the device slightly larger than their competitor, they produce clear audio while the Samsung will vibrate a little when you pump up the volume.
The Big Screen
We're going to give this category to Samsung. The HTC One (M8) has a 5" screen with 441ppi producing vibrant, sharp images. The Galaxy S5 screen is slightly larger at 5.1", with 432ppi and adjusts to lighting conditions. Consumers have noted the S5's bright picture and easy viewing outdoors, giving it a boost for the win.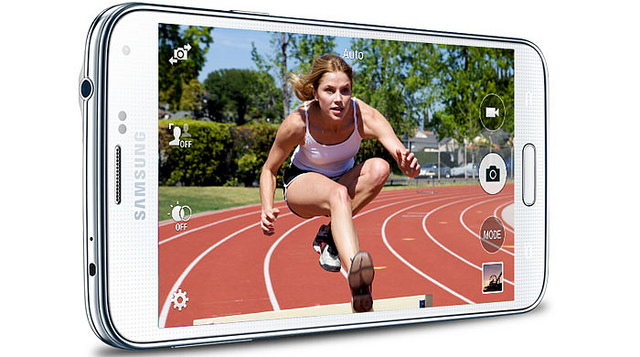 Say "Cheese"
Samsung produces a great image in ideal conditions. It's fast, has good contrast, and an impressive 16MP. "Ideal conditions" is the catch - it doesn't do so well in low light. HTC picks up the slack here with a second sensor and lens, and an added flash. With just 4MP, it yields a pretty good pic as long as you're not dead-set on the ability to crop. A tie?
Power Trip
Both devices are highly powered with a quad-core Snapdragon 801 processor and 2GB of RAM. They both run on 4.4 KitKat (the latest version of Android) and perform most functions you'll ever need with ease. While the S5 boasts some more advanced software features, the HTC runs a bit smoother in day to day operations like opening widgets and apps, and scrolling. It's a close run, but if we have to choose, we'll award this one to HTC.
Additional Features
This is where the Samsung Galaxy S5 shines. It features an Ultra Power Saving Mode, which enables just 30% of battery to last another 3.3 days (which is a century in terms of smartphone battery life). The battery can also be swapped out. Other highlights include quick downloads, a heart-rate tracker and a fingerprint sensor. Although they're both high-functioning, top quality products, HTC didn't splurge here and stuck with the basics, giving the win to their opponent.
The verdict? Well, it really depends on what matters most to you. We had to call it a draw as both products are really at the top of their game. If you're after good looks and a smooth operator, the HTC One (M8) is probably the one for you. If you're looking for all the "extras", you might want to go with the Samsung Galaxy S5.
Maybe you're not ready to buy either one and want to give your current smartphone a little TLC! Fixez has smartphone and tablet replacement parts for almost any device and offer DIY instructional videos to walk you through doing the repairs yourself. Visit our site to shop our products or get in touch with any questions.