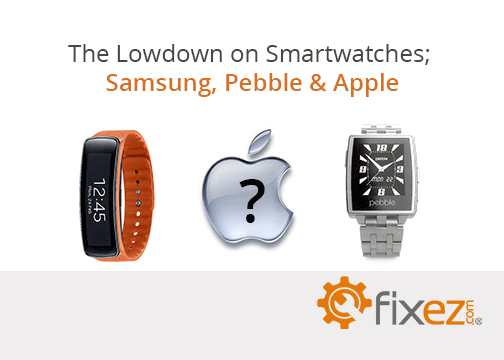 If you're at all aware of trends and advancements in the world of mobile technology, you've heard about, seen or worn a smartwatch. These handy little gadgets were introduced as an advanced smartphone accessory, giving users quick and easy access to notifications and apps in a compact and stylish wrist-worn package. They still rely on the companionship of a smartphone for Internet connections, location and many apps… at least for now!
We decided to take a closer look at the Samsung Gear Fit and the Pebble Steel; two of the current leading contenders that represent the spectrum of what's currently on the market. While Apple's iWatch isn't actually out yet, we thought we'd throw it in the mix too. We read up on the rumors to fill you in on what's been leaked and what might be around the corner in terms of competition.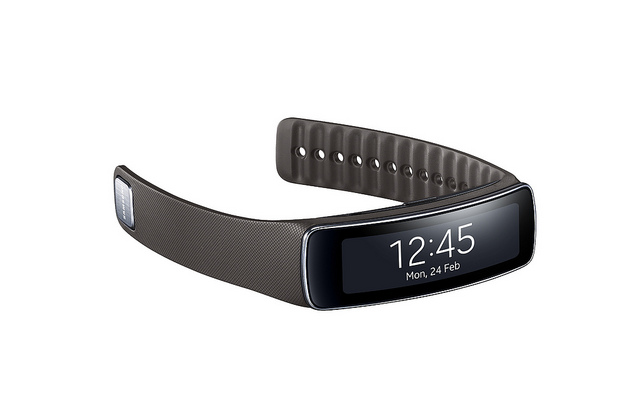 Samsung Gear Fit Specs:
1.84" curved super AMOLED display
IP67 certified dust and water resistant
ARM Cortex M4 processor
3-5 day battery life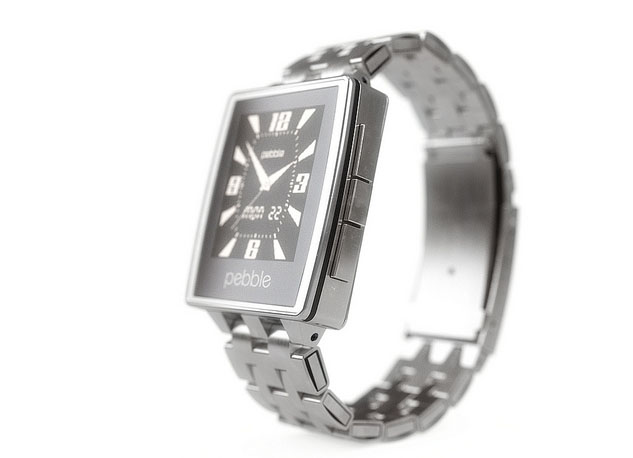 Pebble Steel Specs:
1.26", 144 x 168 pixel e-paper display
5 ATM water resistance
ARM Cortex-M3 processor
5-7 day battery life
Apple iWatch Specs:
1.3/1.5" flexible AMOLED display
Water resistant
"Full" version of latest iOS
4-5 day battery life
Design & Usability
The Samsung Gear Fit offers a sleek look with fun, easily changeable wristbands in a variety of colors. It has a high resolution, full color screen as opposed to the Pebble's more retro monochromatic screen. The Gear Fit screen can be viewed both vertically and horizontally, and controlling the Gear Fit is much more fluid than the Pebble Steel. The Pebble has side buttons for navigation while the Samsung boasts an intuitive touch screen.
You'll notice we listed two screen sizes for Apple. Word is they're planning to offer two different sizes to fit different sized wrists, which is a nice consideration. Apple is well known for producing good looking and compact devices and we expect the iWatch will follow suit.
Compatibility & Features
One of the most important differentiating factors of the Pebble is its ability to integrate with both iOS and Android. The Gear Fit on the other hand is restricted to use with Samsung devices running on Android 4.3 Jelly Bean and above. Although smartwatch apps are still a little limited overall, the Pebble does have more to choose from than the Gear Fit.
As we know, Apple doesn't like to "play" with other products so don't expect it to be compatible with anything but Apple. There's talk of wireless charging, with the possibility of incorporating solar or kinetic charging abilities. It's also rumored that Siri may accompany the iWatch.
While all three have similarities in terms of their primary function and compatibility with 3rd party apps, there are many differences between them and across the smartwatch market as a whole. Although there is room for advancement and refinement, we have to say it's off to a pretty impressive start and look forward to seeing what's in the pipeline!
Looking for other smartphone accessories? Browse our site for great deals on both Samsung and iPhone accessories and replacement parts.