In the world of smartphones, most people find themselves divided into two separate camps; the iPhone's iOS 7 or the Android 4.3. While these two are the top competitors in many regards, the two mobile powerhouses offer vastly distinct experiences for their users. Let's break down some key similarities and differences to help determine your own needs and assist you in choosing the smartphone of your dreams.
The Lock Screen
The lock screen is the first thing a user sees when they turn their smartphone on and we all know first impressions are important. The iOS 7 lock screen offers a minimalist aesthetic with instant access to the camera, Control Center and pending notifications. Many users find the mandatory right swipe to be cumbersome and confining. However, the Android 4.3 lock screen is fully customizable and users can swipe in any direction they choose to unlock the the lock screen. Users can also add widgets, however the lock screen widget selection is smaller than many would prefer. Overall, both lock screens offer beautiful, sleek designs but have room to improve.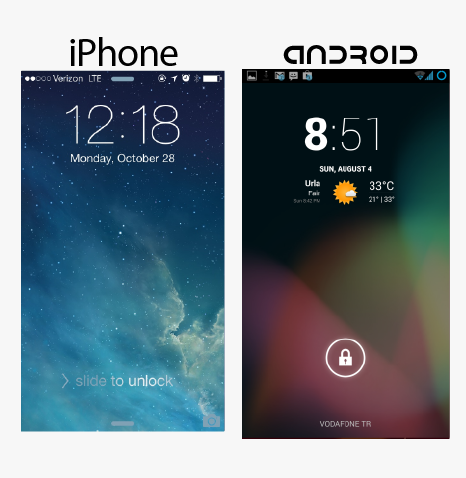 Customization
Android still reigns supreme as the king of customization with it's bevy of live wallpapers, widgets and custom launchers. All of these downloads are available at the Play Store for anyone who wants to switch up the look of their smartphone's interface. Apple has made some changes and is attempting to catch up to Android without overcomplicating iOS 7. Apple now offers users a parallax effect, which moves around the background image depending on what angle the smartphone is held at, creating an illusion of depth. The effect is pretty, unfortunately it sucks up battery power. In addition to parallax effects, Apple now has dynamic wallpapers just like Androids. The only drawback is that you get only one wallpaper in several different color options.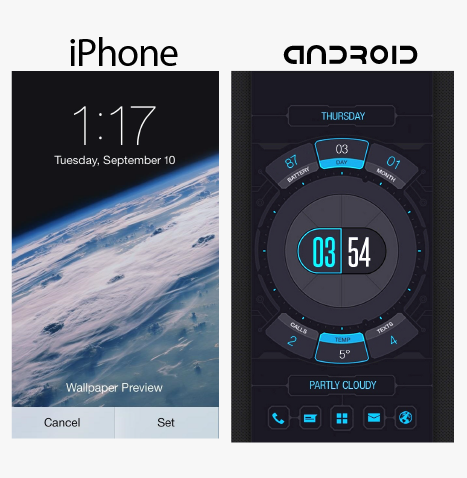 Multimedia
iOS 7 keeps a pretty tight leash on a users ability to transfer music or video content onto an iOS device. iOS users must use an installed version of iTunes on their computer to transfer music or videos. iTunes keeps all of the media well organized, but many users are frustrated by the necessity for iTunes. Some music lovers choose to forgo the music storage altogether in favor of paid subscription applications like Spotify. While offering similar multimedia content in the Google Play Store, Android 4.3 also has no regulations on how users load music and videos. Users are free to connect their smartphone or tablet to a computer and copy and paste the media of their choice item by item.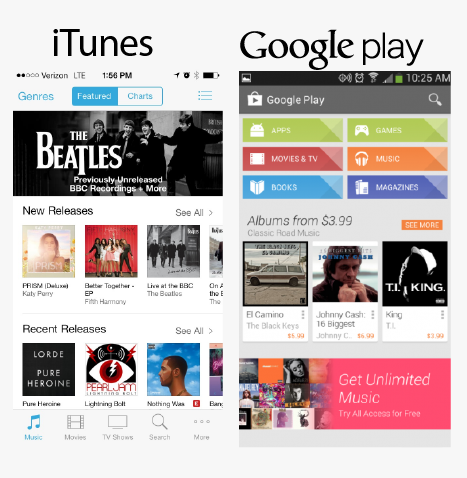 Which is right for me?
The iOS 7 and the Android 4.3 both offer systems that are well designed and are operating at their best to date. In the end, users who desire a clean, elegant, intuitive interface will be completely happy with iOS 7. The polished and detailed interface is an excellent springboard for Apple's high quality applications. On the flipside, users who are into mods and changes, or users who want more control over the smartphone will be more comfortable with the flexibility of the Android 4.3. It may lack the panache of iOS 7, but it's still a fully operational operating system fully armed with a variety of uber useful features. While the quality of apps in the Google Play Store may be lacking in juxtaposition to App Store Apps, they're still free and abundant. Think carefully about how you plan to use your new mobile phone. Continue to research, using the information on fixez.com and other web resources to guide your decision. Get your hands on both Apple and Android products at a local retailer and gather these considerations to find your perfect match.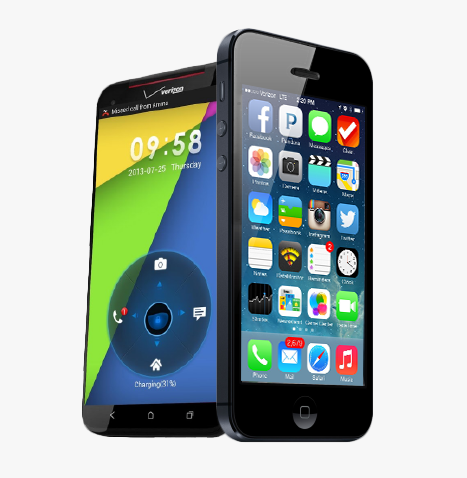 Don't forget to check back with us for more great technology news as well as tips and advice on all things DIY technology repair. From iPhone repair tools to iPad repair kits and all things Samsung...we've got you covered.